Job Summary
The Assembler is responsible for producing components by assembling parts into finished goods and subassemblies. You will ensure all parts fit correctly and are suitable for the final product. You will use your hands or machines to do the job with greater precision. You'll also be responsible for inspecting finished products, packing boxes, and adhering to safety protocols. To ensure success as an assembly operator, you should have meticulous attention to detail and display excellent knowledge of proper assembly procedures.
An employee must be able to perform the essential duties and responsibilities meeting the performance objectives set by management.  Reasonable accommodations may be made to enable individuals with disabilities to perform the functions of the job.
Essential Duties & Responsibilities
This list of duties and responsibilities is not all-inclusive and may be expanded to include other duties and responsibilities, as management may deem necessary from time to time. Employee will follow established best practices, procedures, and instructions to perform tasks safely and without product defects reporting gaps to their supervisor.
Trim, cut, finish, or assemble materials per work order instructions.
Package and label materials per work order instructions.
Stage materials used in the production of finished goods in correct work center areas.
Perform inventory transactions in ERP system.
Use measuring tools and devices to perform inspections.
Complete checklists and forms and as necessary.
Clean up equipment and work area.
Participate in the development of work instructions or continuous improvement projects.
Support the Safety and ISO 9001 & ISO 13485 Quality Management Systems.
Performs other duties as assigned.
Education and/or Experience
• High School Diploma /GED equivalent.
• Assembly/Manufacturing experience a plus.
Physical Demands
The physical demands described here are representative of those that must be met by an employee to successfully perform the essential functions of this job.
Activities are performed on a routine basis using personal protective equipment (PPE) such as glasses, shoes, and earplugs.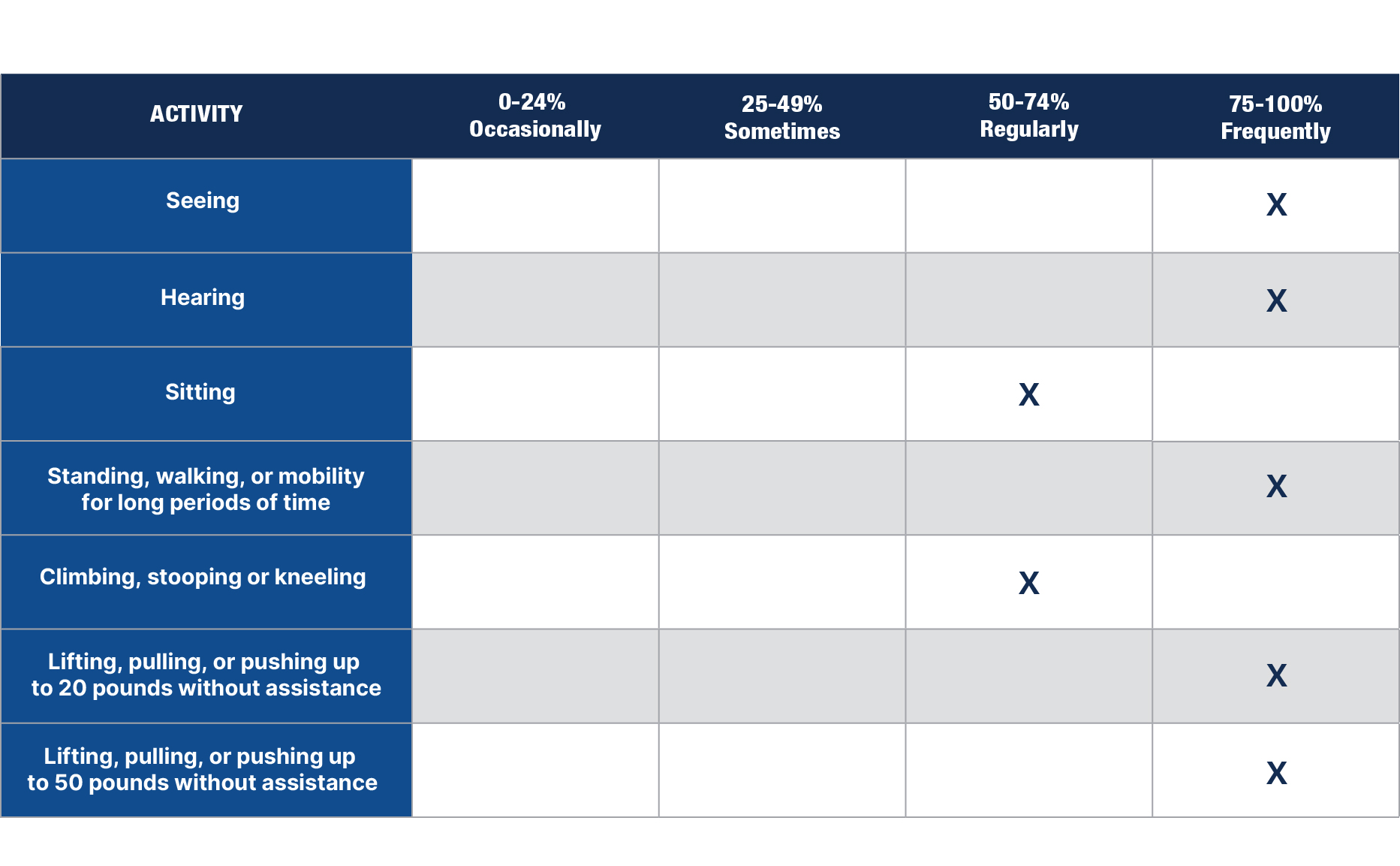 Note: The statements herein are intended to describe the general nature and level of work being performed by employees assigned to this classification. It should not be construed as an exhaustive list of all responsibilities, duties and skills required of personnel so classified.
Employee will operate various hand tools, power hand tools, machine tools and forklift.
Work Environment
Normal factory environment. Slight exposure to dust, noise, fumes, and oil is present.