Twist Brushes
Twist brushes can be known by many names such as spiral brushes, tube brushes, and internal cleaning brushes. Most importantly, twist brushes serve as an integral component in many manufacturing and medical environments due to their effective cleaning, deburring and finishing capabilities.
Manufacturing twist brushes involves twisting filament between stem wires and machining the brush to the desired specifications with a finished stem end. This construction method allows the brush to be tailored for handheld use as well as for use in power drills, automated machines, drill presses and CNC machines. We offer a range of fill materials for use in our twist brushes including synthetics, abrasive nylons, wire and natural filaments. 
2 Inch Bore Hone Video
Tanis 2" Bore-Hone for deburring, honing and surface finishing that creates a cross hatch pattern, improving oil retention and maximizing performance. Bore-Hone brushes should always be used with coolant.
CeramiX® Twisted Brush featuring 3M™ Abrasive Grain in Collet Ready Shank
Tanis CeramiX Twisted Brush featuring 3M Abrasive Grain in collet ready shank used to deburr and finish internal holes and cross holes. Our exclusive 3M grain has unmatched self-sharpening capabilities, providing superior performance in deburring applications.
Twist Brush Terminology

Stem Types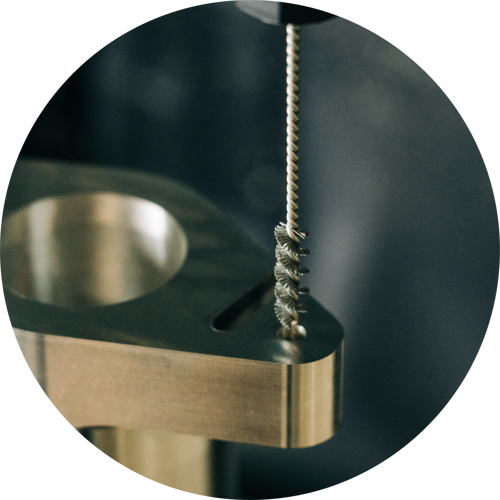 Operating Parameters
When mounting a twisted brush in a collet or chuck, it is recommended to minimize the overhang of the stem to under an inch. This is particularly true with power tube brushes, and it is important to avoid any load conditions and operating speeds that can cause stem deflections and destructive bending. A safe operating speed from 100-500 RPM is recommended for most twisted brushes.
To reach into deeper holes we recommend the use of collet-ready shank mounted brushes or drill extension rods rather than increasing stem overhang.
Tip Types

Handles