Abrasive Wheel Brush Guidelines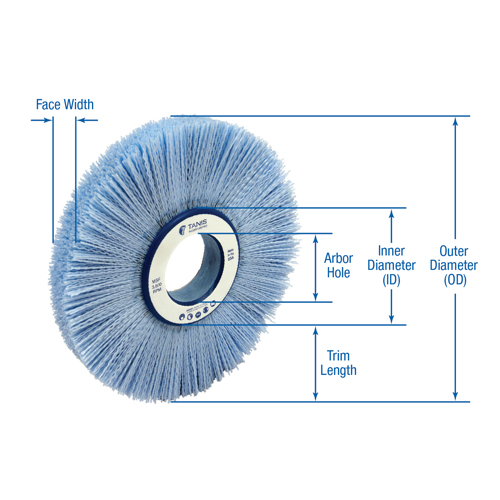 Brush Guidelines
Outer Diameter: Overall diameter measured through the center of the brush from outside edge-to-edge
Arbor Hole: Arbor Hole is mounted to a tool or drive arbor. Arbors are driven by the spindle and provide the necessary length for the tool to reach the workpiece.
Drive Holes: A drive arbor has pins that mount into the brush. The pins mount into the locator holes and serve as drive pins for the brush.
Filament Trim Length: Length of Filament matters to performance and brush wear. For more flexibility choose a longer trim. For more aggressive brushing, choose a shorter trim.
Wheel Brush Types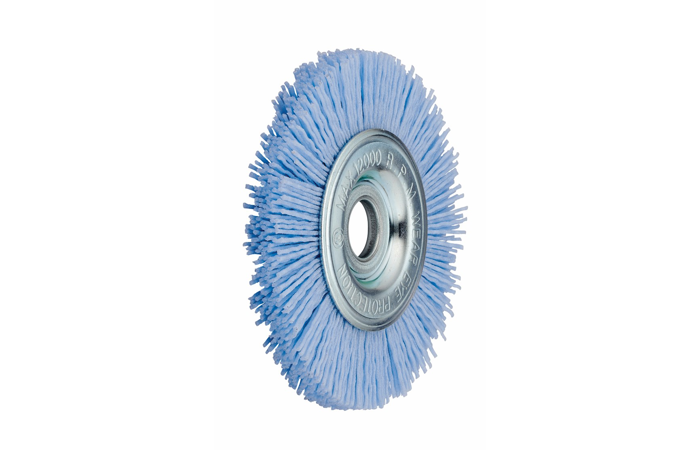 Metal Hub Wheels Brushes
Constructed with a metal hub to run faster, our 3" to 6" wheel brushes provide superior deburring.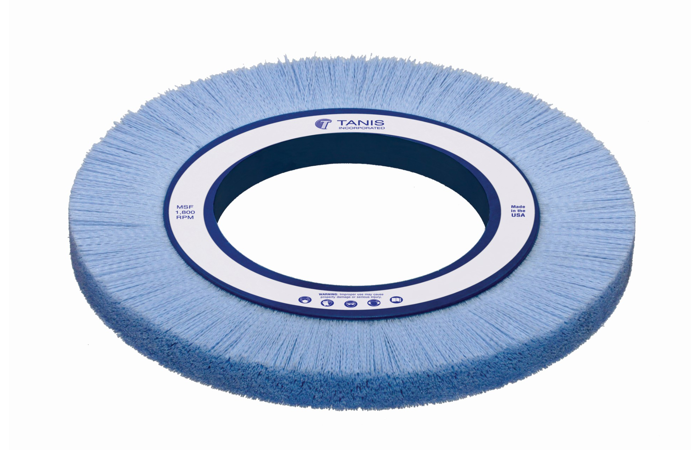 Wheel Brushes
Made with a urethane-based hub known for it's durability and high productivity finishing capabilities.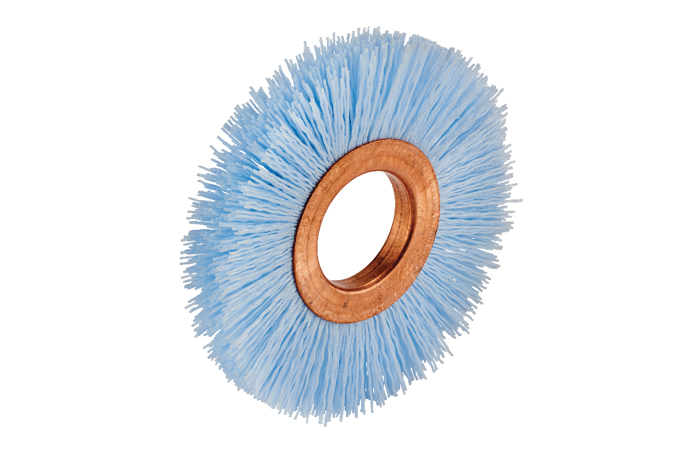 Small Diameter Wheel Brushes
To deburr and finish smaller parts, our copper center wheel brushes are the perfect choice.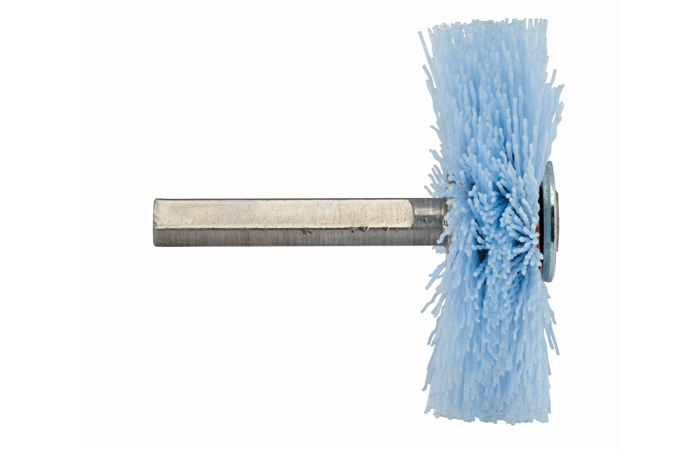 Bore Brushes
A popular choice for cross hole and internal bore deburring, our bore brushes come in 1" to 4" brush diameters.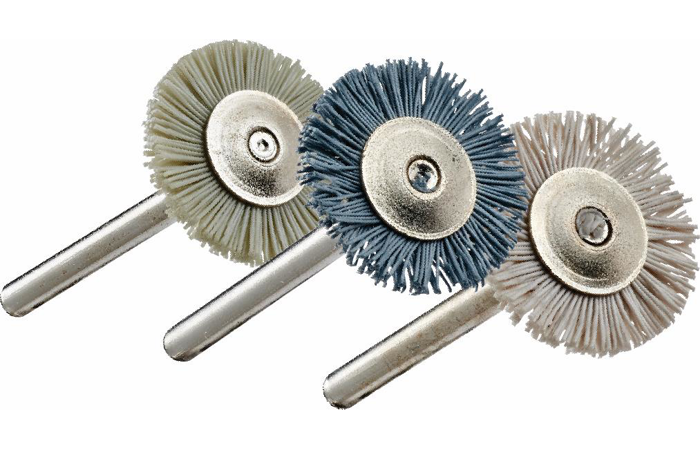 Miniature Wheel Brushes
Our miniature wheel brushes are suited for edge contouring, blending, polishing and cleaning.
Recommended Operating Parameters
Abrasive nylon wheel brushes work best at speeds allowing fairly deep penetration of the work piece into the brush filaments. Faster speeds do not typically work as well as slower speeds, since the maximum RPM listed on the brush is not the optimum working speed. A good rule of thumb is to stay below 2,500 SFPM in dry applications and 3,500 SFPM with coolant. When operating multiple wheel brushes on a common shaft, multiply the HP requirements listed above times the number of brushes in use.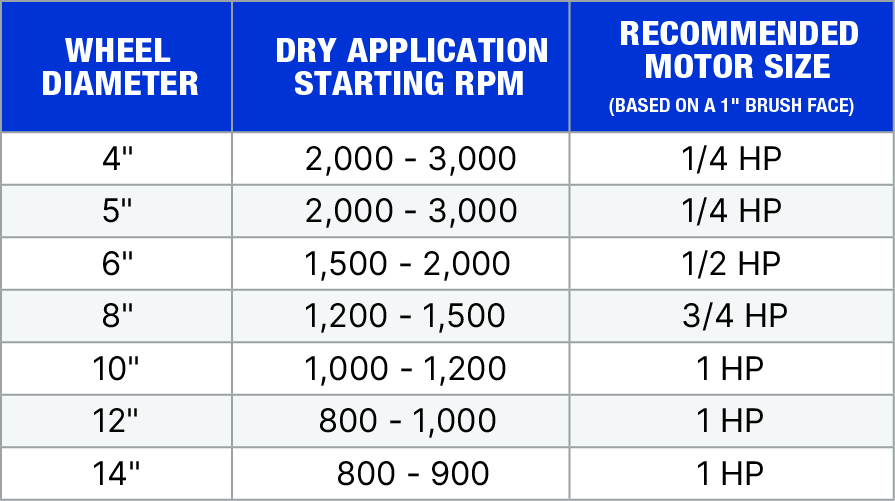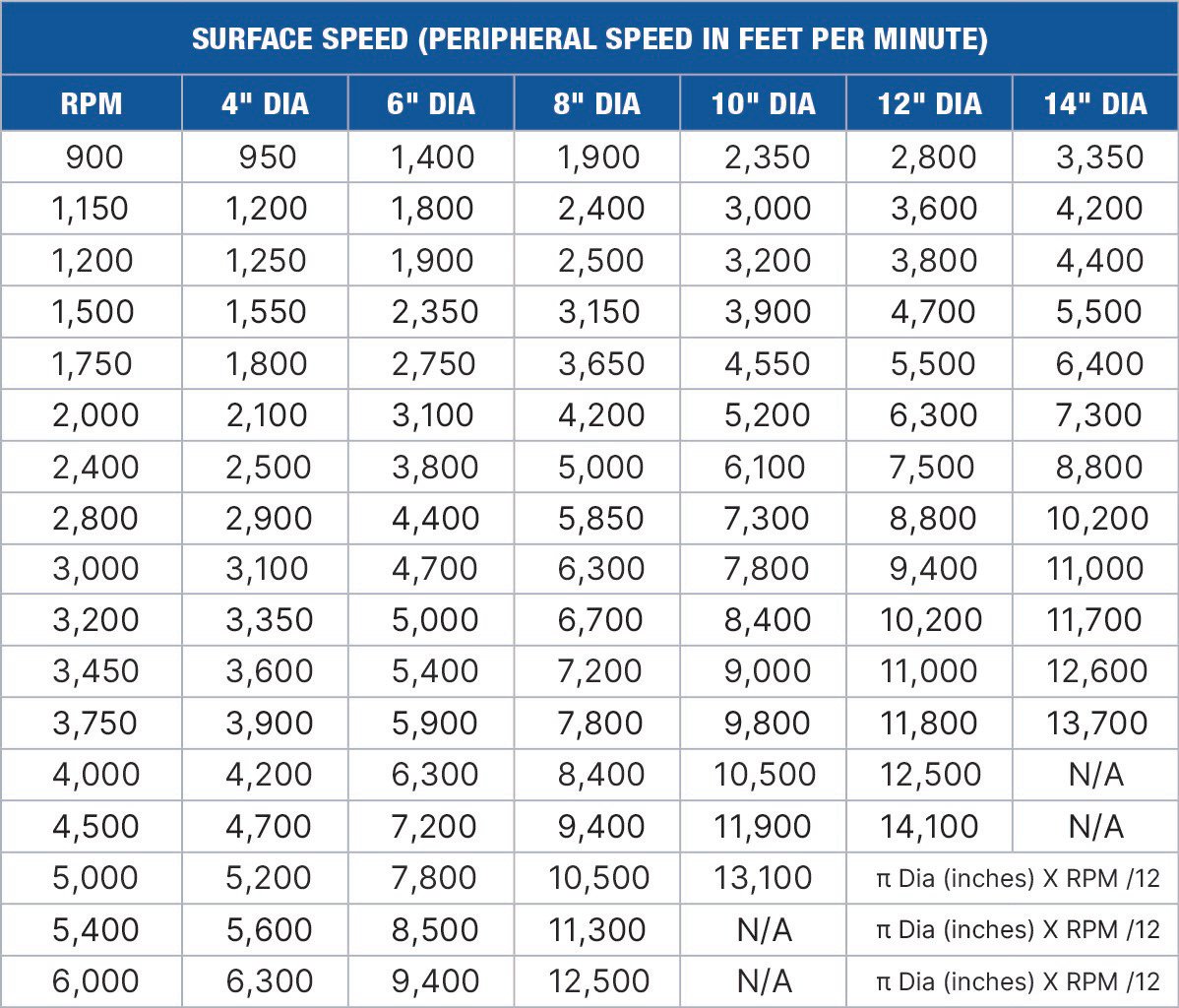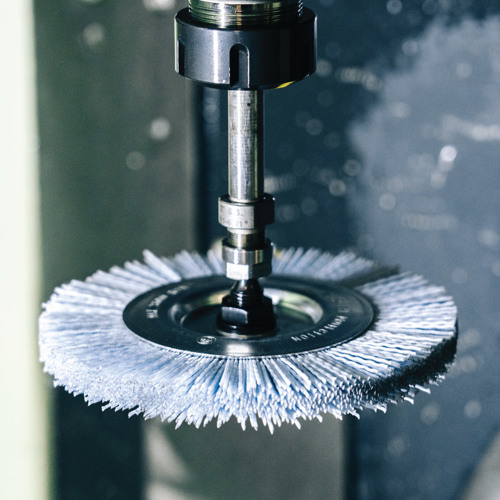 PART PENETRATION (DEPTH OF CONTACT)
For optimal performance, the recommended depth of contact for a wheel brush is up to 10% of the trim length.
A brush with short trim is very rigid and used for high-speed cutting. Longer trim lengths are more flexible and used for conforming to irregular-shaped surfaces or grooves.
When the correct balance between speed (RPMs), penetration, dwell time and abrasive grit size are achieved, then optimum brush life and performance will be achieved.